Installer Roundcube
Installation de Rouncube

Les sources de Roundcube sont sur https://roundcube.net/download/

On télécharge les sources

wget https://github.com/roundcube/roundcubemail/releases/download/1.3.8/roundcubemail-1.3.8-complete.tar.gz

On décompresse l'archive

tar -xvzf roundcubemail-1.3.8-complete.tar.gz

On déplace le dossié décompressé

mv roundcubemail-1.3.8 /var/www/roundcube

On change les droits

chown -R www-data:www-data /var/www/roundcube
chmod -R 775 /var/www/roundcube

on supprime le fichier téléchargé

rm roundcubemail-1.3.8-complete.tar.gz

Préparation du virtual host
nano /etc/apache2/sites-available/roundcube.conf

Alias /myroundcube /var/www/roundcube

<Directory /var/www/roundcube>
         Options +FollowSymLinks
         # AddDefaultCharset UTF-8
         AddType text/x-component .htc

                 <IfModule mod_php5.c>
                 AddType application/x-httpd-php .php
                 php_flag display_errors Off
                 php_flag log_errors On
                 # php_value error_log logs/errors
                 php_value upload_max_filesize 10M
                 php_value post_max_size 12M
                 php_value memory_limit 64M
                 php_flag zlib.output_compression Off
                 php_flag magic_quotes_gpc Off
                 php_flag magic_quotes_runtime Off
                 php_flag zend.ze1_compatibility_mode Off
                 php_flag suhosin.session.encrypt Off
                 #php_value session.cookie_path /
                 php_flag session.auto_start Off
                 php_value session.gc_maxlifetime 21600
                 php_value session.gc_divisor 500
                 php_value session.gc_probability 1
         </IfModule>

         <IfModule mod_rewrite.c>
                 RewriteEngine On
                 RewriteRule ^favicon\.ico$ skins/larry/images/favicon.ico
                 # security rules:
                 # - deny access to files not containing a dot or starting with a dot
                 # in all locations except installer directory
                 RewriteRule ^(?!installer)(\.?[^\.]+)$ - [F]
                 # - deny access to some locations
                 RewriteRule ^/?(\.git|\.tx|SQL|bin|config|logs|temp|tests|program\/(include|lib|localization|steps)) - [F]
                 # - deny access to some documentation files
                 RewriteRule /?(README\.md|composer\.json-dist|composer\.json|package\.xml)$ - [F]
         </IfModule>

         <IfModule mod_deflate.c>
                 SetOutputFilter DEFLATE
         </IfModule>

         <IfModule mod_expires.c>
                 ExpiresActive On
                 ExpiresDefault "access plus 1 month"
         </IfModule>

         FileETag MTime Size

         <IfModule mod_autoindex.c>
                 Options -Indexes
         </ifModule>

         AllowOverride None
         Require all granted
</Directory>

<Directory /var/www/roundcube/plugins/enigma/home>
         Options -FollowSymLinks
         AllowOverride None
         Require all denied
</Directory>

<Directory /var/www/roundcube/config>
         Options -FollowSymLinks
         AllowOverride None
         Require all denied
</Directory>

<Directory /var/www/roundcube/temp>
         Options -FollowSymLinks
         AllowOverride None
         Require all denied
</Directory>

<Directory /var/www/roundcube/logs>
         Options -FollowSymLinks
         AllowOverride None
         Require all denied
</Directory>

Activez le site et redémarrez Apache :

a2ensite roundcube.conf
service apache2 reload

Création de la base de donnée

CREATE DATABASE roundcube;
GRANT ALL PRIVILEGES ON roundcube.* TO [email protected] IDENTIFIED BY "password";
FLUSH PRIVILEGES; 

Choisissez un "password"
Interface web
Rendez-vous sur http://xxx.xxx.xxx.xxx/myroundcube/installer/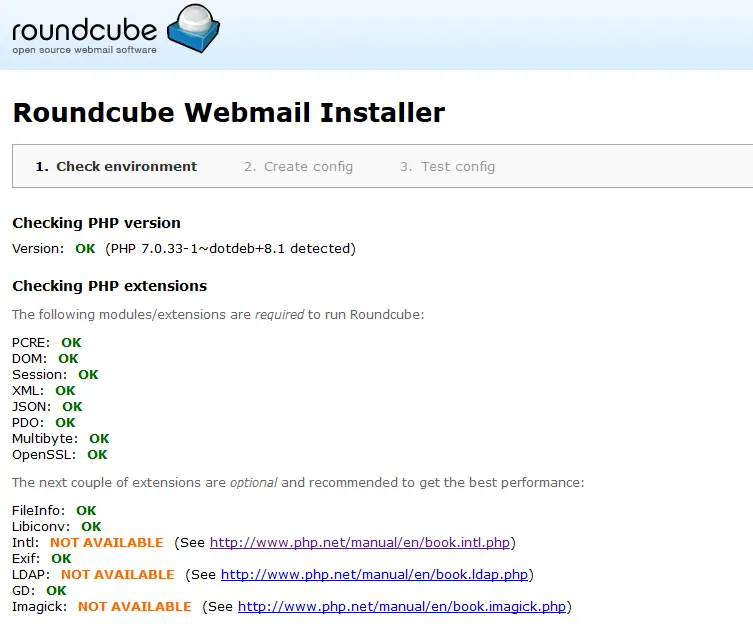 et installez les paquets manquants:


apt-get install php7.3-int
apt-get install php-imagick

Vous pouvez vous identifier sur http://xxx.xxx.xxx.xxx/myroundcube avec comme identifiant votre email et son mot de passe (que vous avez créez dans Installation de postfix et courier
N'oubliez pas ce message d'avertissement:

After completing the installation and the final tests please remove the whole installer folder from the document root of the webserver or make sure that enable_installer option in config.inc.php is disabled.

These files may expose sensitive configuration data like server passwords and encryption keys to the public. Make sure you cannot access this installer from your browser.